How Do You Choose Between Physical Security and Remote Monitoring?
It is important to customize your property security according to your needs. Depending on your property, you may want to consider either physical security or remote security. For you to determine which is the best fit for your needs, here are some pros and cons of each.
Security of the physical environment
If there is a greater risk of physical harm, physical security is the best option. A trained security guard, for instance, can react quickly to any emergency, such as a fight or theft, allowing them to perform physical patrols and controlled access. By being active, they can prevent vandalism, theft, and other criminal activity.
Are there any advantages to having physical security?
Security guards can serve as a visual deterrent to potential thieves or burglars. Commercial buildings are protected by the following measures: Because security guards are trained to deal with threatening situations, they can help with residential security needs as well.
On-site security guards will be able to respond quickly to either report or prevent crimes from occurring. Guards are also trained in first aid, so they can react quickly to injuries.
A security guard must be observant and respond quickly to a variety of situations on site. Floods, weather damage, gas leaks, fires, and natural disasters can be prevented by their presence.
In what ways does physical security have disadvantages?
A team of physical security guards can be expensive if you need them to maintain the security of your commercial or residential property.
A team of security guards will be required at large sites to respond quickly to threats instead of an individual guard. The use of remote security could alleviate the need for large teams of security guards in these situations when one guard would be ineffective.
It is possible for security guards to commit wrongful detentions and provide poor customer service. A company's reputation may be harmed or residents may face issues as a result of these actions.
There are many factors that can affect the performance of a security guard. A security guard's effectiveness will be influenced by issues such as shift management, job satisfaction, and loyalty.
Security via remote access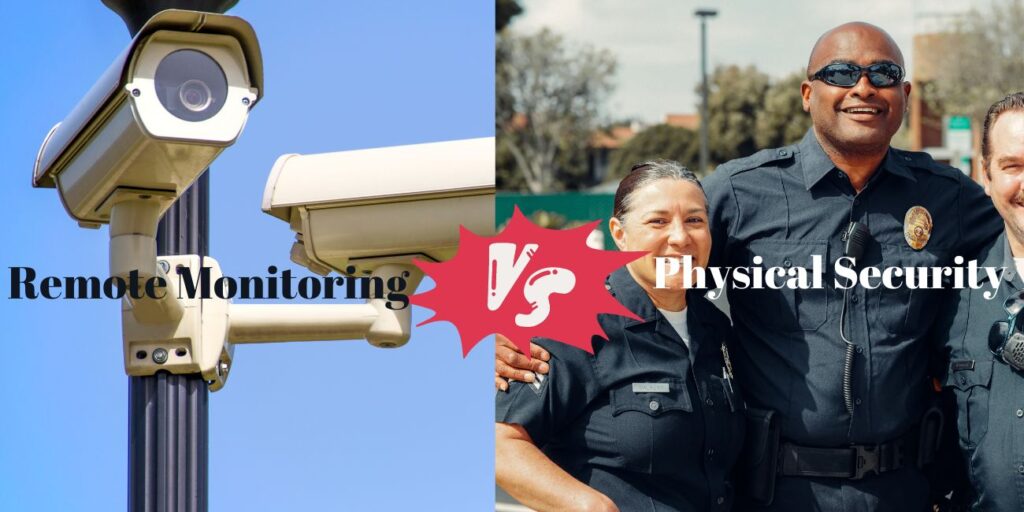 By monitoring all corners of your property remotely, you can reduce theft and other crimes on the premises. By monitoring all activity, remote security ensures the safety of employees, tenants, and visitors.
Security concierges can identify intruders who are on the premises illegally as well as those who are not authorized to enter certain areas of the premises, such as high-security areas or restricted zones without permission.
Remote security has many advantages, but what are they?
CCTV cameras and motion sensors provide surveillance 24 hours a day, 7 days a week.
Perpetrators can be identified using security cameras that capture evidence of crimes.
In the event of an emergency, remote security will be able to alert emergency services.
Physical security guards cannot intimidate or threaten security cameras.
For some criminals, visible security cameras can be a deterrent.
Large properties can benefit from security cameras since they can survey a large area at a lower cost.
What are the disadvantages of remote security?
A surveillance system requires an upfront installation fee, despite the fact that long-term maintenance is more affordable than having physical security guards on hand.
Remote security uses security cameras and motion sensors that are highly sensitive and can sometimes cause false alarms instead of spotting real criminal activity. As a result, remote security operators will likely need to spend time neutralizing false alarms.
If concierge security isn't paying attention to the security cameras, they could miss actual criminal activity.
Physical security guards on site will be able to respond to your property's needs in real-time.
Is remote security better than physical security?
Secure your site by choosing remote security or physical security. Your property's vulnerabilities are determined by a site survey and assessment. An experienced security professional can help you make the right decision based on the results of a site survey and assessment.